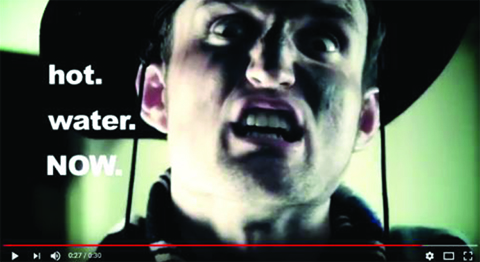 I wanted to touch on the commercial production aspect of my business. My partner, D.A. Jackson and I have a small independent film production company. As a cinematographer and assistant director for Workhorse Pictures, I often play multiple roles in independent film production companies. Staff in small productions often has to be in multiple roles outside of the actual production as well.
However, my primary goal is helping my partner and director to line up the best shots. Additionally, the other very important role I play is networking. I network by talking with people who need their businesses or company's brands communicated visually. We are in charge of helping them form the concept, write the script and every aspect of the process to produce a commercial or promotional video — from music to sound to high end and dynamic post production.
In regards to what my work involves, it all starts with attracting the clients that are the right fit for us and them. We can do productions of all scales. Our favorite clients to work with are those who will allow us to think outside the box and create original ideas for. So this takes getting to know their brand and having conversations with them.
Afterwards, my partner and I begin brainstorming heavily in order to come up with ideas, putting ourselves in the minds of consumers. We talk with people who would be our ideal clients and run ideas past them. We come up with treatment and script ideas and we present 2-3 ideas to the client. Our goal is to make very dynamic content for our clients to use to promote their brand.
A typical work week consists of prospecting, networking and talking with business owners and individuals about business. This entails what they do and what we do, how I can help them and connect them. This also includes what we do for business in regards to commercial production.
This leads to script ideas that are always being brainstormed or worked on. This is usually outside of the actual production, since the actual production takes a shorter time than anything else involved with the business.
One of the most challenging things about what I do is finding the clients. Every other aspect feels like a breeze. Business often really comes down to creating customers, building those relationships and maintaining them.
The most rewarding part is to see the excitement and gratitude after we've provided the client with the final product. Seeing the looks on their face and hearing their reactions to their final product and how they want to get it out to the world is definitely gratifying.
My advice to future or developing commercial production entrepreneurs is to always keep learning. Nurture the love of it, master the technology and experiment on your own. Get mentors and work with other crews so you can improve yourself with those surrounding you.
With Workhorse Pictures, the plan is to continue growing our brand so that we can allow people to know that we are the film production brand to help them grow their business. Our goals are to work on at least one project per month and to continue to produce a national type of quality for our clients.
You can check out some of our examples of our commercial production work here:  https://www.youtube.com/channel/UCRF_Xd6UpnIQK06UjxQxJFw?view_as=subscriber